What's the first thing you see of a fashion magazine? The cover. Yes, the cover that its making process can cost you hundreds of thousands of dollars. And this is what's happening if a follower magazine can't afford it. Repeated cover.
French ELLE November 2011 is copycatting German Glamour for December 2010 which is copycatting (oh!) VOGUE October 2010. Carey Mulligan is so in demand, eh?
Here's the thing. A kindergarten girl can even do it. Looking at cordons of magazine around the world, and say, "Oh, This cover looks cute, with lots of flowers on the dress. And the hair is just like mine. I want it for my magazine!"
And this.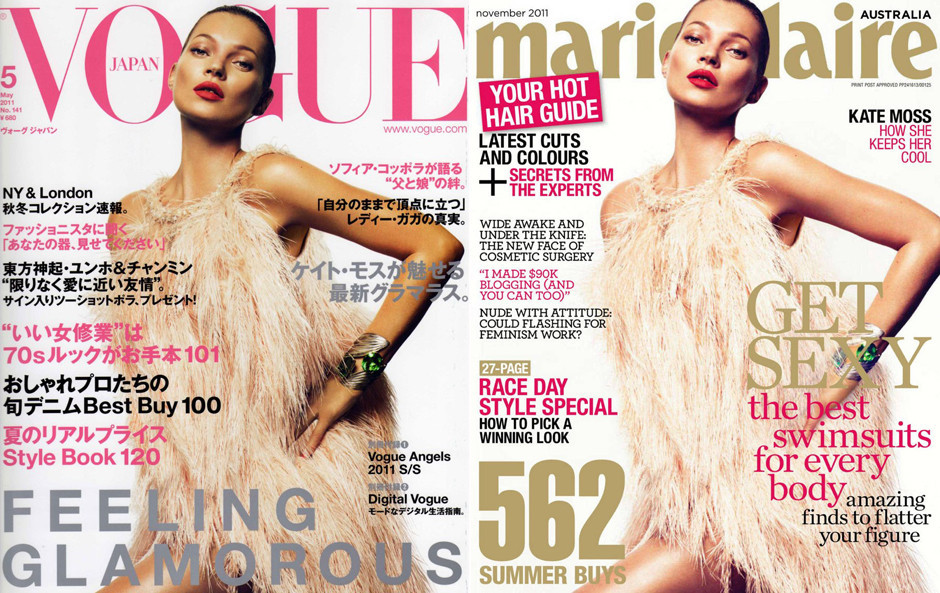 Marie Claire Australia November 2011 issue in a Chanel Spring 2011 feathered dress. The exact same photo appeared seven months earlier on the May 2011 cover of Vogue Nippon. Shame. Shame.

Me myself doesn't even allow a repeated cover for franchise magazine, e.g. Harper's Bazaar Indonesia using Bazaar US cover. This, my readers. This is, not only 'not the same magazine in different countries', but also 'not the same publication'!! VOGUE and Glamour both wave the same flag of Conde Nast, but ELLE?!
Like I always say, market hates followers. People prefer originals. Look at multi billion dollar companies around the world. They're unique. They're making breakthrough. Most of them are one-of-its-kind. One of the most important factor in fashion magazine (or fashion world) is authenticity. Look where faux fakes and imitation and inspired-by stuff end. Bottom of the trash bin.
I wonder, why don't you guys, instead of copying-paste the cover, make your own photo shoot? Okay, Chanel Couture for cover is something cashy. But if you can't afford that (and I'm sure you can't), use locals. Many local designers need your help to promote their talents. Yet for some reasons, you can support local fashion market too. Who knows that it will be something 'it' one day?
Being editor (editor-in-chief, in this term) is difficult, indeed. You have to be creative, passionate of what you're doing, and smart-working. Not alike fashion editors or something else, you got to have a good sense of business too. If you say, "Yeah, we can't afford that because blah blah blah,", come on. You're making excuses. You're gods sake editor-in-chief of fashion magazine. Many people will dress you or your models for nothing! Nothing but publication. And you have the power of publication.
Both covers are initiated by VOGUE, and both models are in Chanel. Mmmm... That's why I love VOGUE, which bothers to have their very own photo shooting. And it's proving that VOGUE is (still) a leading fashion magazine, no matter what. 
Signorefandi, there MUST be a legal action against imitators!