When my friend Lawrence Ferber told me we would stay at Four Seasons Resort after AYANA, I was like, ohhh... move from one heaven to the other one. Here it is. We stay at Four Seasons Resorts at Sayan, Bali. Even though it's far far away from the crowd, it's so all worth it. Such a hiddenly wonderful place. Al least that's what comes in my mind when I see the entrance..
I'm like, "Where is the resort? Is it invisible? or we have to go through root/rope bridge to get there?"
But then I see this..
And this answers my question about the entrance..
So, the resort is not ON the ground. It's IN the ground instead. Really cool. They own the whole hills and the rivers and the cliff and the jungle. They created their own village. Good habitat fot luxury traveler like me (this time).

We're welcomed by Balinese musical show. Actually there's a dance performance also, but we gotta go to our room and get ready for a fabulous dinner. I'll post about it later.

And this is how the room looks..
In the morning, we have a breakfast with the people from Fourseasons, but I told them that I will have a yoga session first for a while. And yoga in the morning at Four Seasons? Ahhmazing..
And for my breakfast, I got the yummiest vegetarian food I've ever tasted.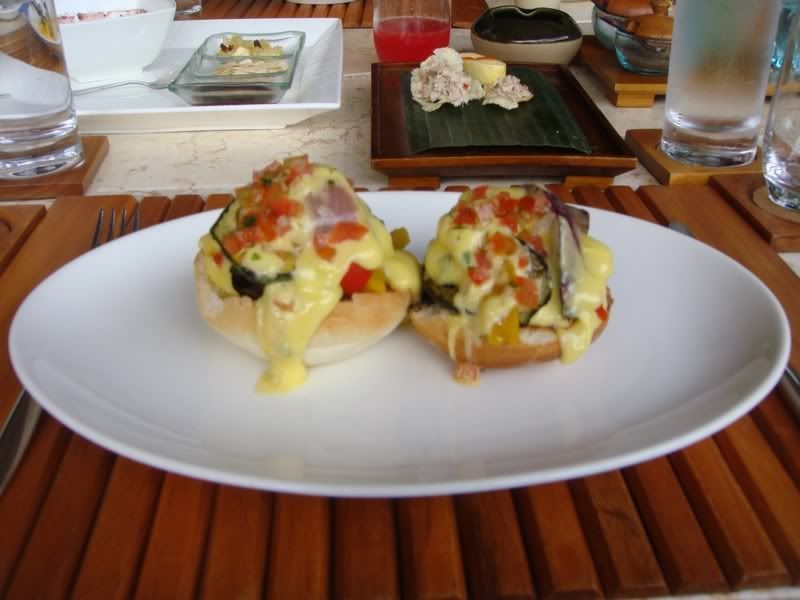 Four Seasons Resorts Bali is available at Jimbaran Bay (I gotta see it) and at Sayan, Ubud.
For further details, tab here. Or you can call (62-361)701010. You will never regret swapping your Amex for this. ;)

Signorefandi, I don't wanna go home..