It's a wow. Today my friend Lawrence Ferber, a travel and entertainment writer (for Instinct Magz and Passport this time) invited me to the villa he stays, AYANA Resort and Spa. It's located on the southwestern tip of Bali in Jimbaran Bay. AYANA is the winner of 2010 CONDE NAST TRAVELLER READERS' AWARDS#1 Spa in the World Gold List – Best Hotels and Resorts! *Plok plok plok
No wonder it's full of wonder. Every inch of it.

This is what they say on their web.
"Graduates of the prestigious Guild of Professional Butlers' Certification Program in the UK, AYANA's butlers are trained to provide the highest level of service expected by the Royal Palace of England, for the discerning Villa guests. They cater exclusively to guests' needs 24-hours a day, in accordance with the uncompromising standards of the Guild, which trains butlers and valets for royalty, nobility and celebrities worldwide."
I say, Ameen.
It's just superb, that it has 3 kinds of villas; Cliff, Ocean, and AYANA.  It's so wide that it needs a boogie to get everywhere inside the resort. We even got a mobile phone for use during the stay, to contact the butler at any time. We got few times problem with that due to the connection, but I think they'll fix it soon.

This is the view of the backside of the villa. They put your breakfast on the pool. Yep, it's Floating Breakfast! Love love love..

Lawrence got tropical bath-kit as welcome gift, which smells sooo good I-wanna-get-that-too.

I arrived there at 5.30 p.m., since we planned to have sunset diner in the villa's restaurant, serving freshly-made-you-pick seafood with perfect sunset as our scenery behind.
I saw some yoga session near the restaurant. With such too marvolous a place, yoga feels much better than life itself, I guess.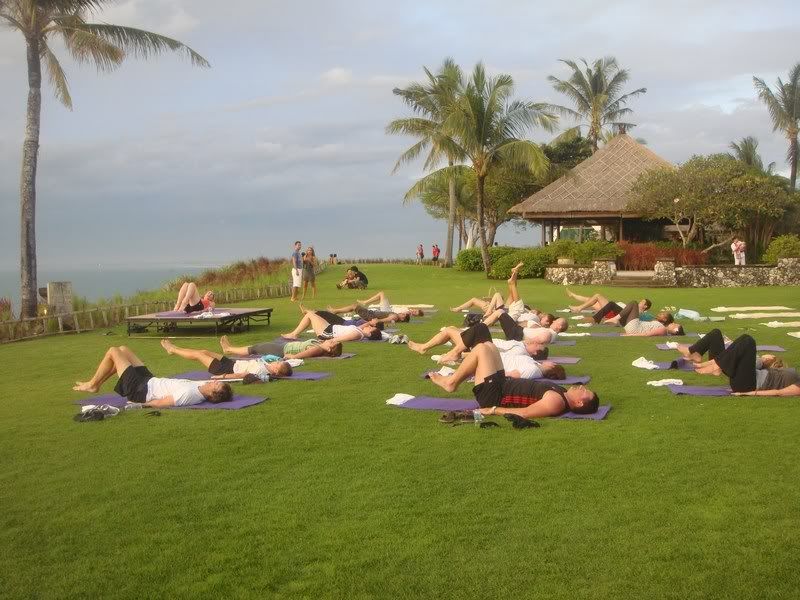 After having dinner, we went to Rockbar, a bar on the cliff (sooo close to the mouth of the ocean, that sometimes the water spills up over the bar).
Perfect seat. Take this when you're here ;)
So warm, romantic, and relaxing. You'll get the best scenery ever (with city, beach, ocean, and cliff view, you're greedy if you ask for more).
I got a cocktail named Rock My World (Haha.. Just saying it's gonna be rocked, my world, soon enough :P) and some desert called chocolate cigar. What a combo.
Perfect way to end (or start?) my day.
Signorefandi, God, you were in a good mood when you're creating this, weren't you?